CCLEANER FREE / PRO / BUSINESS / TECHNICIAN 5.67.7763
CCLEANER FREE / PRO / BUSINESS / TECHNICIAN 5.67.7763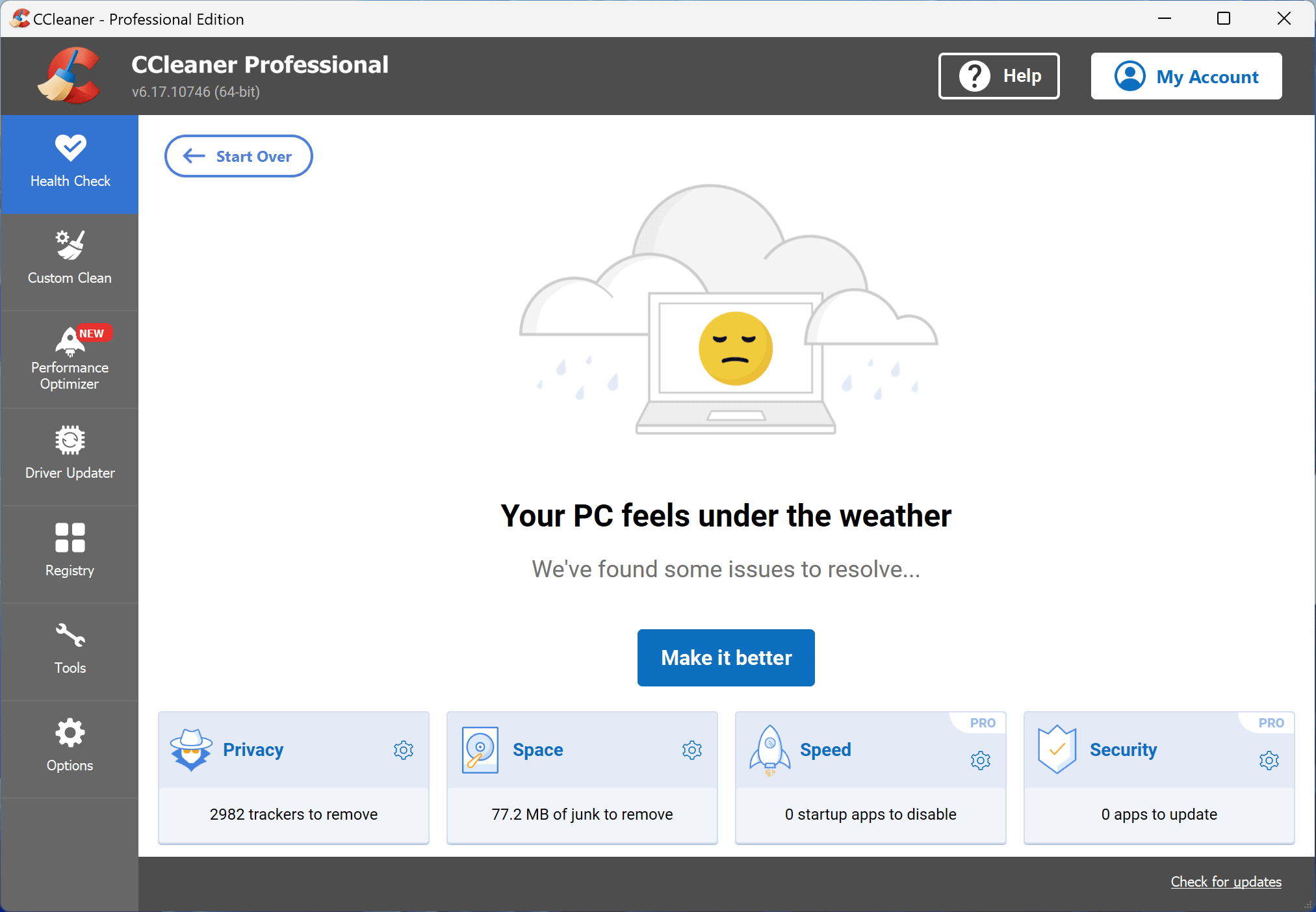 CCleaner Free / Professional / Business / Technician (Repack & Portable) –
in the course of its work (Crap Cleaner) searches and deletes temporary and unused files. These include: cookies, browsing history in IE, temporary Internet files, search strings, Recycle Bin files, etc. Also supported is the search for temporary files of third-party applications: Firefox, Opera, Media Player, eMule, Kazaa, Google Toolbar, Netscape, Office XP, Nero, Alcohol 120, Adobe Acrobat, WinRAR, WinAce, WinZip, GetRight, Morpheus, Download Accelerator Plus, VirtualDub , ZoneAlarm and many others. You can also clean up the Windows registry, saving it unnecessary extensions, old dll libraries and invalid paths that accumulate in a considerable amount, especially after installing and uninstalling various programs. Having done all these operations on your system, you will not only free up disk space, but also increase the performance of the system as a whole.
Features repack CCleaner Free / Professional / Business / Technician:
1. Combined installation of the program in one distribution kit or unpacking
portable version (installation – according to the capacity of the system, unpacking x86 + x64)
2. Selecting the program edition during installation:
– Free Edition
– Business Edition
– Technician Edition
– Professional Edition / default option /
3. Paid editions do not require registration (key + verification block)
4. Multilingual interface (including Russian)
5. Advanced shortcuts in the Start menu
6. The ability to store (select during installation) settings in the registry or in the INI file
7. Ability to block Internet activity CCleaner (telemetry):
– no lock
– Avast servers and license checks
– Full block (the program does not see the Internet) / default option /
Locks exclusively in program executable files (no changes are made to hosts)
8. Optional CCEnhancer * installation (requires .NET Framework 4+ to work)
programs for downloading and updating extended CCleaner databases (modification and translation of wvxwxvw)
9. Picks up user settings from external settings.reg or ccleaner.ini files
ATTENTION! When choosing to install the additional CCEnhancer program, the database of additional filters and cleaning rules that is current at the time of repacking is copied. The database contains several hundred entries and its loading into the program causes a delay in operation (the "Analysis" button is not immediately available). To speed up CCleaner, optimize the database for the features of your system. To do this, in the CCEnhancer find the item "Advanced", and in it "Facilitate winapp2.ini".
ATTENTION!!! FALSE
antivirus
detection
for repack
is possible
according to the copyright holder's complaint
.
Screen
test VirusTotal at the time of publication.
Developer support for
Windows XP
terminated
WindowsXP Version
Latest version under the Piriform brand
System Requirements: Windows 7/8 / 8.1 / 10
File Size: 17.7 Mb
Download CCleaner Free / Pro / Business / Technician 5.67.7763 (Repack & Portable): with Turbobit
Download CCleaner Free / Pro / Business / Technician 5.67.7763 (Repack & Portable): with Katfile
Download CCleaner Free / Pro / Business / Technician 5.67.7763 (Repack & Portable): with Up-load
Download CCleaner Free / Pro / Business / Technician 5.67.7763 (Repack & Portable): with Uploadrar